Legion of Super-Heroes® Costumes:
---
Chicago Comic Convention - 1997
Fans in Legion of Super-Heroes costumes were out in full force on Saturday afternoon during the 1997 Chicago Comic Convention.
Legionnaire Group Pics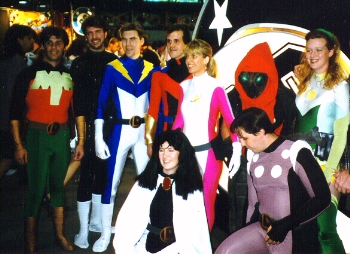 At the DC Comics Booth.
From left to right: front: Apparition, Cosmic Boy; rear: Ultra Boy, Star Boy, Live Wire, M'Onel, Saturn Girl, Gates, Kinetix.
[Note that Star Boy is wearing the pre-Zero Hour costume.]
Photo by John Adams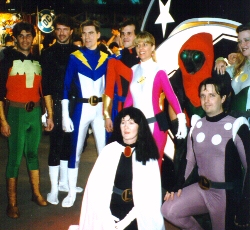 The fans in the costumes are: Mike "Ultra Boy" Leib, Eric "Star Boy" Henrickson, Brian Douglas "Live Wire" Ahern, Tony "M'Onel" Vitale, Teresa "Apparition" Vitale, Sidne Gail "Saturn Girl" Ward, Leman "Gates" Yuen, Gordon "Cosmic Boy" Smuder, and Jennifer "Kinetix" Menken. Johanna "Shrinking Violet" Draper and William"Superboy" Moschke also participated in the costuming and are in the picture below.
Leman Yuen organized the event and made most of the costumes. He instructed Tony and Teresa Vitale in constructing the M'Onel and Apparition ensembles. Eric Henrickson made his own Star Boy costume.
Photo by John Adams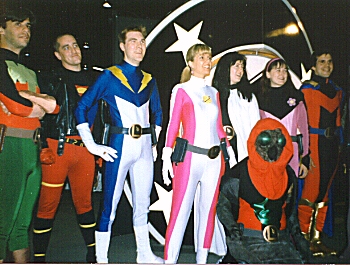 Front row: Gates. Back row: Ultra Boy, Superboy, Live Wire, Saturn Girl, Apparition, Shrinking Violet, M'Onel.
Photo by Greg Turner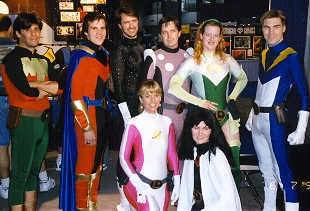 Front row: Saturn Girl and Apparition. Back row: Ultra Boy, M'Onel, Star Boy, Cosmic Boy, Kinetix, Live Wire.
Photo by Bala Menon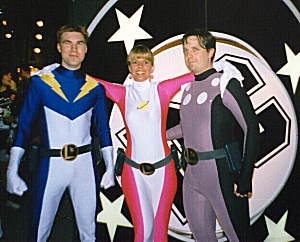 The three Legion founders, Live Wire, Saturn Girl, and Cosmic Boy.
Photo by Greg Turner
Individual Legionnaires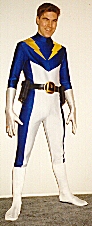 Live Wire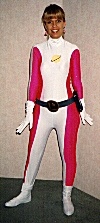 Saturn Girl

Cosmic Boy
M'Onel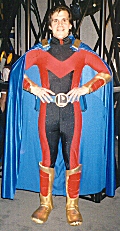 Gates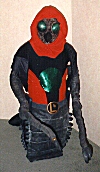 Ultra Boy


Shrinking Violet

Kinetix